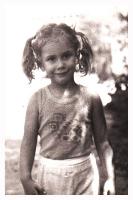 I was born in Italy in 1979 in Belluno, a small town in the North eastern Italian Alps where I still live and work today. In 1999 I lived for a few months in Paris (France) studying engraving at the "Ecole Estienne". I have always studied art and painting techniques and I have completed my art studies at the Academy of Fine Arts in Venice (Italy), in 2002. From 2003 I took part in dozens of exhibitions in Italy and abroad, especially in the ones focusing on children's illustration. In 2004 I undertook an additional year of study in order to learn the difficult and fascinating art of making frescoes and murals, using traditional techniques. I particularly enjoy making murals, frescoes and art works on walls, especially in the open air. I love to set up workshops with children, teenagers and adults. Workshops are often focused on wall painting, but also on teaching the various painting techniques. In 2013 I spent three months in Nepal as a volunteer running a workshop with local children where we painted a mural in a school in Kirtipur, close to Kathmandu city. I kept a blog dedicated to this project that you can find (only in Italian) at this link. I work as a freelance illustrator producing images for books, websites, newspapers, postcards and advertising. I love to travel around the world having always my sketchbook at hand. Many drawings and watercolors have been inspired by the landscapes and cultures of the various places that I had the chance to discover.
---
MAIN ILLUSTRATION EXHIBITIONS (2002 – 2020)
---
"CCBF – CHINA SHANGAI INTERNATIONAL CHILDREN'S BOOK FAIR 2020″  Shanghai Baoshan International Folk Arts Exposition Center
"Image of the book" international illustrators exhibitions in Moscow, Russia, 2019
"Sharjah Exhibition for Children's Books Illustrations" (Eighth Edition, April 2019) ARABIAN EMIRATES
"Nami Island International Picture Book Concours" of South Korea – 2017
"Nature in the freedom" Italian Illustrators exhibition at National Library in Kuwait – 2016
 "Torino Comix" (Torino,Italy) 2006
"I colori del sacro" Biennale Internazionale di illustrazione (Padova,Italy)
"Lucca Comix and Games" (Lucca, Italy) since 2011
"La casa della fantasia" di Borgomanero (Novara,Italy) 2006
"Mostra internazionale dell'Illustrazione per l'infanzia" di Sarmede (Treviso, Italy) – since 2003
"Concorso calendario" and other exhibitions organized by Tapirulan (Cremona,Italy) – since 2008
"Illustraction" (Alboussiere, Ardèche, France) – 2015
 "Bollicine d'Artista" Valdobbiadene (Treviso,Italy) 2004
"Fantasticando" solo illustration exhibition (Belluno,Italy) 2008
---
MAIN CARNETS DE VOYAGE EXHIBITIONS and PRIZES (2013-2020)
1st prize at the "PREMIO ANTONIO COCCO 2019" with the sketchbook project "On Elias Canetti's footprints" about Morocco.
International carnets de voyage exhibition "IL FAUT ALLER VOIR" Clermont Ferrand (FRANCE) 2015
International carnets de voyage exhibition  "FESTIVAL DU CARNET DE VOYAGE" Carcassonne (FRANCE) 2017
International carnets de voyage exhibition "MATITE IN VIAGGIO" Mestre, Venezia (ITALY) since 2013
International carnets de voyage exhibition "DIARI DI VIAGGIO FESTIVAL" Ferrara (ITALY) 2016
---
LINKS ABOUT ME (only Italian Language)
il blog sul mio progetto di PITTURA MURALE in una scuola in NEPAL
articolo sul mio progetto "LIBRI PER IL NEPAL" dal blog della casa editrice TOPIPITTORI
sul ciclo di decorazioni murali dedicate alla "Caminata" per Via Sottocastello a Belluno
sul ciclo di decorazioni murali dedicate agli ZATTIERI DEL PIAVE, Borgo Piave (BL)
ARTICOLO sul LIBRO delle FIABE MESSICANE di "FAMIGLIA CRISTIANA"
"UNA ILLUSTRATRICE ITALIANA IN NEPAL" dal blog LE FIGURE DEI LIBRI di Anna Castagnoli
Copyright © 2020 MARTA FARINA, all rights reserved.